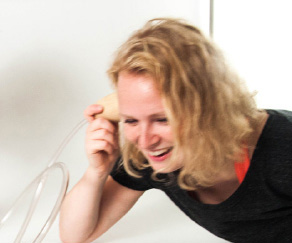 Anne is a recent MSc graduate Industrial Design from the University of Technology Eindhoven (TU/e), the Netherlands. She spent 8 months (Nov 2015 – July 2016) of her master graduation project at the Everyday Design Studio as a visiting research grad student. Anne uses her design instrumentally and sees it as a means to explore relationships that grow between objects and humans.
She is interested in the philosophical discussion on the role of technology in society and aims to design objects that start these discussions from an object perspective. She explores the ability of objects to functions as embodiments of critique to manifest and elicit a critical design-oriented inquiry.
Her Master Graduation project is called 'Disrupting Clocks', in which 'time related objects' embody several moralities related to (clock-)time that through use, trigger reflections on our contemporary relations to time. These objects disrupt existing relationships with conventional (alarm) clocks with the intention to show how our relationships are shaped by designed artifacts to either foster or deprive us of sleep and the ability to rest.
Anne holds a Bachelor in Industrial Design from the TU/e, has been an intern at Muzus – a service design studio for contextmapping –  and next to her design education she worked for several conferences (in Berlin and Amsterdam) and exhibitions (in Helsinki and Eindhoven) in the field of Creative Technology and Design in management and production.