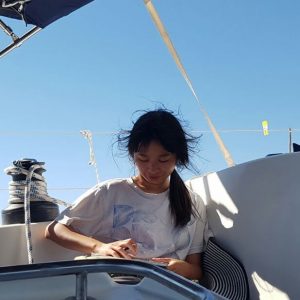 Tiffany is a PhD student working under the supervision of Dr. Ron Wakkary, with a research interest on tangibles, environmental sustainability, and long-term interactions with technology.
Tiffany received her Bachelor and Master's degrees in Computer Science from the University of Calgary. There, she was a member of the Interactions Lab for 5 years, and developed a strong research background in HCI and information visualization, along with experience in computational fabrication and electronics.
Her work primarily focused on supporting non-experts in creating data visualizations with simple tangible tools, such as tiles and potatoes. Other works included the creation of engaging digital and physical visualizations for data storytelling and analysis, as well as designing interactive technologies with unconventional forms (including an improv-performing robot arm controlled via crowdsourced input). Prior to joining the studio, Tiffany also interned with the HCI Sorbonne group in Paris, France, and worked as a research assistant at the IxLab (Interactive Experiences Lab) in SFU's School of Computing Science.
She is excited to learn from the studio's interdisciplinary perspectives on rethinking design towards more meaningful and long term relationships between human and technology.
In her spare time, Tiffany loves travelling, training in Krav Maga, and paddleboarding on the beautiful waters of BC.
Click here for a list of Tiffany's publications, and here for an outdated and incomplete website.